All you need to know before moving to Melbourne FL
Get Your Moving Quote
"*" indicates required fields
Have you started packing your suitcases for moving to Melbourne FL? If so, we suggest that you take a short break and look at what we have prepared for you. We will introduce you to everything you need to know before moving, both about the city you are moving to and the process itself. The main desire of müv as a premium moving company is to provide you with simple and easy moving. So, all you need to do is to continue reading, and we promise you will find all the necessary information regarding your move. Moving can be both a wonderful experience and a challenging and stressful job, depending on how well-organized you are. But don't worry; we are here and guarantee you a successful move.
What does moving to Melbourne FL bring you?
This is the place where people of all generations live – from young professionals, schoolchildren, and students, to adults and pensioners. Everyone found something in this city and decided to make it their home. Melbourne, located on the Space Coast, is one of the most populated metro areas in this part of Florida. The Space Coast is known for launching a large number of satellites and spacecraft into the sky every day. But this isn't the only attraction of this city. One of the most famous neighborhoods in Melbourne is the artistic district of Eau Gallie, where you can visit a large number of museums. Also, the city center offers many opportunities, both business and entertainment. You will come across a large number of luxurious restaurants, cafes, and bars.
When we talk about Melbourne as a place to live, we can say that it fulfills all the basic needs of every individual. Melbourne ranks third as the best place to live in Florida. At the same time, this is one of the safest places, with a very low crime rate. When we talk about living conditions and costs, we can freely tell you that life is more than favorable. Moving to Melbourne brings you a comfortable life full of exciting activities and good fun. So, if you plan to move here, Space Coast movers are at your disposal. Contact them, and move!
What's life like in Melbourne FL?
Let's take a closer look at the details that make Melbourne a great place to live. The housing market, job opportunities, outdoor activities, nightlife, and other factors are very important and should be considered before organizing a move. There are many great reasons why move to Melbourne FL, and we will cover them all.
Outdoor and cultural activities
Melbourne offers quite a lot of outdoor and cultural activities. After a hard day at work or when the weekend comes, you can pick and choose where you are going to spend your time and have fun between many great options. First of all, Melbourne has many amazing beaches. Who doesn't love to spend time there, take the sun in, and swim in the ocean? You should also make sure to visit the Brevard Zoo, which has many fascinating and exotic animals. If you are into arts and culture, head down to the Eau Gallie Arts District. There you will find a trendy and diverse area packed with museums, galleries, exotic restaurants, great cafes, and so on! Finally, if you are a science lover, the Kennedy Space Center is the right place for you as it has been ground zero for the US space program for many generations.
Relax and unwind after moving to Melbourne FL in its many bars and clubs
After successfully moving to Melbourne FL, you would for sure like to go out and celebrate! Even if you're already settled in and created your work-home routine, going out for a few drinks with your friends is one of the most pleasant activities in our lives. Thankfully, Melbourne has a lot to offer in that field. Our biggest recommendation is Mainstreet Pub. It's a three-story bar that feels like three different places packed into one big house! There's a whiskey bar, a black-light lava bar, and a tiki bar with the best frozen drinks. Be sure to check it out and have a good time!
Apart from Mainstreet Pub, we recommend you visit the Island Root Kava bar, Lou's Blues Upstairs, and Foo Bar & Lotus Gallery. All three places are unique and special in their own right, Of course, there are many other clubs and bars in Melbourne, so you'll have a lot of fun exploring them all once you are settled in and ready to hit the town!
What's the housing market like?
The average home value in the state of Florida is $406,876. You'll be happy to know that the homes are on average cheaper here than in many other cities in Florida! The median price of a house in Melbourne is $383,790. There's been a 25% increase in the average price compared to last year, but that is common for every other place in the US, due to the rise of inflation and economic effects of the pandemic. The best neighborhoods in Melbourne we would recommend are South Patrick Shores, Angel City, Roseland, and Storey Park. The average home price in these great neighborhoods is:
South Patrick Shores – $504,516
Angel City – $449,597
Roseland – $397,945
Storey Park – $557,056
When it comes to renting, on average the rent in Melbourne is $1,500. Of course, it depends on the location of the apartment or house, as well as its size. For example, a 3-bedroom Melbourne apartment in the city center costs about $3,300 a month. A 3-bedroom suburban home would cost you less, at $2,200 per month. As you see, it's an affordable place to live when it comes to housing accommodations.
The job market is thriving
The unemployment rate of 2.7% in Melbourne is below the national average of 8.7%. As you see, there aren't a lot of people without a job, which means you can easily find one! On top of that, the average annual salary in this city is $53,000. This city is the hub for high-tech and aerospace employers. Collins Aerospace, Northrup Grumman, Leonardo DRS, and many more are stationed there. Plus, it is the most highly concentrated high-tech economy in Florida, as well as the city with the third-best wage growth in the entire United States! Forbes Magazine has ranked it in the top 10 best cities for STEM jobs, so if you are a part of these industries, make sure to use that to your advantage! Take a look at the best 20 companies in Melbourne FL and apply now!
The cost of living index in Melbourne is below the national average
The cost of living index in Melbourne is 94.4, compared to Florida's 103.1. In practical terms, this means the average person in Florida has to spend 3.1% more on housing, food, and utilities than the average American, but the residents of Melbourne have to spend 5.4% less for those same things! We've already covered the housing market, but what about the other important things we have to pay regularly? The cost of living index for transportation, for instance, is 83.4, which is quite cheaper than most places in the US. Utilities, groceries, and healthcare are all on average cheaper, with each having an index of around 96. As you can see, living in Melbourne FL is not an expensive ordeal whatsoever! Be sure to capitalize on this opportunity as soon as you can.
Be organized when moving to Melbourne
So, the first thing you need to know about your move is, not to start your move before hiring one of the best moving companies Melbourne FL. The help of the moving company and its super movers will be of great help to you. Because moving is one of the most challenging processes in your life, professional help, and good organization are indispensable parts.
In this process, a lot of work is expected of you, and therefore you need to complete several tasks, such as arranging administrative tasks around your move, such as deregistering your address, paying bills, etc. Also, getting packaging, sorting, packing, and cleaning your old home is part of the work that awaits you. That's why we advise you to organize your time.
Good organization is necessary
When we talk about organization, you must have realized that it's indispensable in the process of your move. Your moving company can help you with organization, but at the same time, they can offer you storage Melbourne FL services that can be useful for storing things that you don't need right now. So, what is important when moving to Melbourne FL is to plan every step you take forward, and to make a good organization of all the work you need to do. Also, organize your time so that you arrive on time for the final day of your move.
Few simple steps
Contact our business
Reach out to our Florida movers by phone, email or through our website.
Get your free quote
Give müv the details of your upcoming relocation and receive a no-obligation moving quote and a tailored plan of action.
Enjoy your relocation
Forget about the stress of moving while one of the top moving companies in Florida handles your move.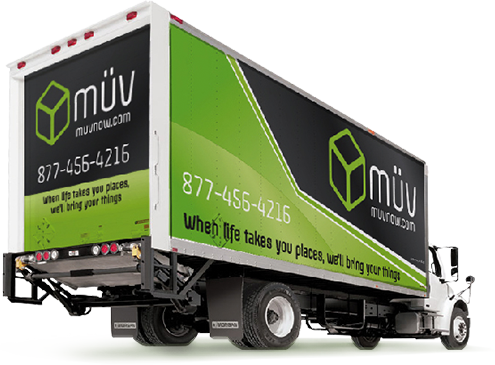 Sales Center Hours of Operation:
Monday - Friday: 9am-6pm
Saturday: 9am-1pm