Spending winter in Florida: pros and cons
Get Your Moving Quote
"*" indicates required fields
So you've decided to somehow warm during the winter, like Florida. That's why we as the leading Florida moving experts would like to help you. So let's jump in and explore spending winter in Florida: pros and cons together. Let's dive in!
Pros and cons of spending winter in Florida, Orlando
Orlando is a great place to be during the Winter, especially in 2022. Most people are moving to Florida and other 'warmer' states because there are no high heating bills during the winter. The main pro includes the cost of living for one person being $2129 per month and for a family of $4463 with the rent included. The biggest con would be housing because it's 7% higher than the national average and groceries are 4% higher than the national average. On the other hand, utilities are 5% cheaper than the national average, that's even better because the fossil fuel prices are some of the cheapest in Florida. If you want to know more reasons why are people moving to Orlando you can check out our blog. We also have plenty of tips and tricks for moving, packing storing, and analysis of places in Florida.
If you want to DIY your entire moving process that's fine but we as the best moving and storage Orlando can help you too. Did you know that our movers can pack an entire house (four-bedroom), in less than three hours? Also, they can unload or load a full moving truck in less than ninety minutes. The con of hiring moving pros is usually the cost; but if you have a good job that can be fixed too. You see if you work extra hours instead of packing, unpacking, moving, loading, unloading, arranging, cleaning, etc. you can cover that moving expense with extra hours of work. On the other hand, you could just enjoy your time doing anything else like hanging out with friends, and family or just watching Netflix and chilling.
Pros and cons of spending winter in Tampa
The pros like in all places in Florida will include warm winters. The weathering is just great in Tampa with the average temperature of 75° / 58°F in December and 78° / 61°F in November; with January being the coldest month with only 71° / 53°F. So the weather is best described as really pleasant and cozy with lots of sunshine and little humidity. Another pro of living in Tampa is that schools are really good and during the winter your kids can enjoy a lot of water and beach activities, instead of being isolated in their homes. Ybor City lights its yearly Christmas tree. Throughout December, tourists may meander through the beautiful streets in search of original presents and holiday celebrations. Other pros are quiet neighborhoods, low crime rates, affordable living, and nice weather all year round.
So you might wonder whether there are any cons to living in Tampa. Sure, but not as much as the pros. One of the biggest cons is the same weather because a certain amount of people want a more continental climate; most people like having four seasons and in Tampa, it's mostly one to two. There can also be tropical storms and the traffic and transportation can be messy from time to time. But this has become a worldwide phenomenon. If you rely on the best moving services in Tampa you'll have no trouble moving anything. Our skillful and well-trained drivers have experience navigating through streets in all parts of Florida. Now if you want to avoid traffic jams and move easily, consider hiring pros to move you. Also, we offer packing services as well as storing.
Winter in Melbourne FL pros and cons
The first and the biggest pro of being in Melbourne FL during winter are endless activities. Melbourne is famous for snorkeling, scuba diving, and other activities but these you can enjoy even in December. There are hundreds of restaurants that are unique in their way so if you're into fresh seafood this is a place for you.  Starting December 6 the enchanting tree-lighting celebration will begin. Christmas songs will be sung by students from the neighborhood primary school for everyone's enjoyment. Don't pass up this charming, small-town celebration happening in front of the old town hall. 
The biggest con during winter in Melbourne Florida can be a storm. Some people say that Hurricanes and Red Tides are the two biggest cons, but they don't happen every year. From time to time they can cause a lot of damage to property and even claim lives. But if you follow government rules and do what the news suggests everything should just be fine. If you're wondering what is red tide it's a blooming of algae (dinoflagellates,). Additionally, they release chemicals that turn shellfish toxic to consume and kill fish.
Most moving companies Melbourne FL will help you with packing as well so if you need don't have any time for a DIY move let us know.
Final thoughts on Spending winter in Florida: pros and cons
We've reached the end of our today's article. We hope that you found it useful and thank you for reading it. Now to summarize it since it's 2022 and in 2023 the recession will be even worse, you'll save a lot of money in your move to Florida. The prices are cheaper especially natural gas, gasoline and electricity bills. First of all, there is no heating during the winter and second of all, you can enjoy being outside most of the time. Winters are mild compared to the rest of the US and the ocean temperature is perfect for swimming.  That would be it for today and we hope that you liked our thought on spending winter in Florida: pros and cons. Have a great stress-free move and a warm winter in Florida.
Few simple steps
Contact our business
Reach out to our Florida movers by phone, email or through our website.
Get your free quote
Give müv the details of your upcoming relocation and receive a no-obligation moving quote and a tailored plan of action.
Enjoy your relocation
Forget about the stress of moving while one of the top moving companies in Florida handles your move.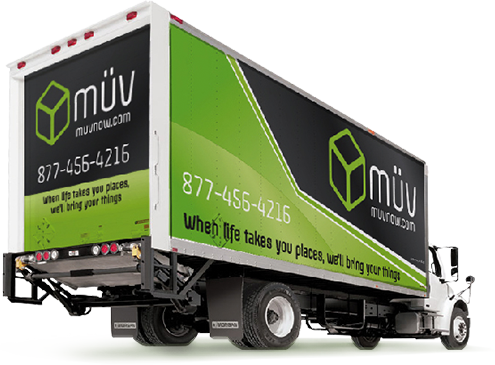 Sales Center Hours of Operation:
Monday - Friday: 9am-6pm
Saturday: 9am-1pm