Fun things to do in Rockledge FL
Get Your Moving Quote
"*" indicates required fields
Moving to another home very often means you've decided to change something about your way of living. People often move to larger cities for new opportunities, but that isn't always the case. Sometimes you just need to leave hustle and bustle for the slower pace you want to experience. And if you decide to hire our movers Rockledge FL and move to this charming small town, you'll not regret it. As the oldest city in Breward County, this place is unique and still attractive to people in this area. Even if you are coming to Rockledge from another county, you'll not make a mistake. But before you get focused on relocation tasks, let's remind you of some of the interesting things to do in Rockledge FL after the move. Stay with us and learn simple ways to get to know Rockledge. We will help you enjoy this place!
Reasons for the move to this place are some of the things to do in Rockledge FL
There are so many factors that will determine where you want to live in your state or country. For many people vital reasons for being a resident of a certain place are the workplace, being close to family, affordability, and activities they can enjoy. The last mentioned reason affects their routine, health, and overall well-being. Before you decide to hire Florida moving experts and move to another city seeking something new, you need to figure out if that place is good for you. Since you are considering Rockledge, let's see if this city is a good option for you and your family. Have friends or relatives living in Rockledge? Great, let's see if should you join them.
With a population of about 27,700 residents, this city could seem too small for you, especially if you are coming from some of the largest cities the in the country. This is considered a very small size population, which brings many disadvantages. But numbers sometimes can't tell you a lot about the experience you can get onsite. Although it is a pretty small city, after just a few hours spent in this place you will find out about many fun and exciting things to do in Rockledge FL. Since the city offers low costs of living here you can save a lot and focus on quality life and fun activities. So, before you hire some of the finest movers Brevard County, we recommend you visit this city. It will help you realize do you like things you can do in the city once you relocate.
Some of the best things to do in Rockledge
Enjoy Wyland Galleries;
Have fun at Kennedy Space Center Visitor Complex;
Become a member of Rockledge Country Club;
Enjoy scenic nature at Florida Tech Botanical Gardens;
Spend a day with your family at Brevard County Riverwalk Nature Center;
Enjoy some tasty dishes such as Autumn's Crab;
Check out Wild Ocean Seafood Market;
Take a walk through the Avenues shopping center and visit World of Beer;
Spend your weekend at Merritt Island National Wildlife Refuge;
Explore the American Police Hall of Fame;
Get back your energy and relax at Indialantic Boardwalk and Park;
Discover one of the most-visited family recreation attractions – Adventure HQ, a short drive from Rockledge;
Take time to discover Valiant Air Command Warbird Museum;
Attending Yoga Surf School can be so relaxing, try it;
Have an unforgettable time at Liberty Bell Memorial Museum.
Even if you are an active type of person, all of this can be a lot to do in just a month or two. But there is no need to rush, enjoy every moment of exploring Rockledge after moving with the help of your Space Coast movers. Regardless of your age and preferences, there is a lot to do and see when you are living in a place such as Rockledge FL. From simple days to exciting adventures with beloved people, you can spend your day in whatever you want to. So, get active and play golf, try out some new flavors, or have fun with the family. You will not make a mistake as long as you follow your mood and needs. And when you live in Rockledge, you can truly live like that.
Prepare for the move and enjoy your days in Rockledge FL
Many people who visited Rockledge FL decide to come again. Among them, many want to stay and enjoy this unique place every day. If you are among them, you will definitely want to consider finding a new home here. This can be challenging while you are trying to pack and prepare your possession for leaving your current home. If you need a safe and affordable place for keeping your belongings, use Florida storage services and you will not regret it. This solution will let you focus more on finding a perfect home for you in Rockledge FL. Bring essentials to the storage and conduct your relocation step by step. You can have little adventures in the city and its surroundings while relocating.
Since you can rely on our movers when it comes to the most challenging relocation tasks, you can take your time to get to know the friendly residents of this magnificent, small city. Nevertheless, make sure you are ready for the big day and contact our movers to confirm your moving date. After you plan out your moving strategy and divide moving tasks with our movers, take a tour through a city. Hope that this article will help you choose between many things to do in Rockledge FL. Whether you decide to enjoy shopping, food, stunning nature, or fresh air in some of its parks or recreation, for sure you will truly enjoy it. This small town has a unique vibe and days could be incredible here!
Few simple steps
Contact our business
Reach out to our Florida movers by phone, email or through our website.
Get your free quote
Give müv the details of your upcoming relocation and receive a no-obligation moving quote and a tailored plan of action.
Enjoy your relocation
Forget about the stress of moving while one of the top moving companies in Florida handles your move.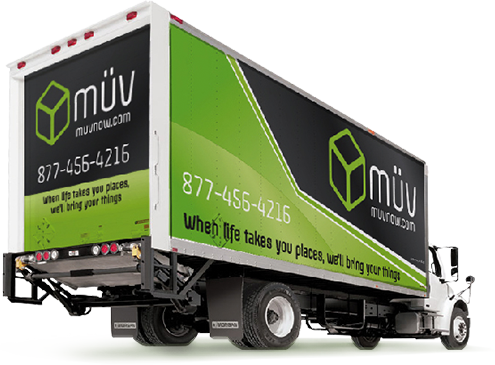 Sales Center Hours of Operation:
Monday - Friday: 9am-6pm
Saturday: 9am-1pm