How does a job relocation work?
Get Your Moving Quote
"*" indicates required fields
So your company has decided that you have to move. We, as office movers in Tampa, will explain to you how a job relocation work. This means that you have to move from your current company to another city, state, or even country. On the other hand, it can mean that the company that you applied for wants to have you closer. Either way, you'll have to pack your bags and move. This can also be the case if you're moving from junior to middle or senior positions within the company. Also, the company can sometimes see the use of your talents elsewhere in another office. So if you want to know the whole process, keep reading the article. So let's dive in!
Job relocation negotiations and new workspace
First of all, you have to negotiate this well. You have to see with your boss, manager or whoever is in charge how they'll compensate for the move.  We at müv would first advise you to contact human resources to see if you can get a good "deal." Read the whole offer and analyze it for questions and see if you like it in the first place. Now when it comes to moving to a new office, you should get some time off. You should check out the office a couple of days before the move. If you have any chance to check through videos, and photos, VR or simply Google it. This way, you can see where the office is relocated so you can explore the location and the surrounding area. This way, you can also pick the best apartment or house location.
We, as movers Clearwater FL would advise you to go and talk to your colleagues there first. This is essential if you don't know anyone from the place where you're moving. You could discuss with them over a coffee everything about your move. After they show you the office, you should ask them to show you around the neighborhood, and they could also help you pick a home or a rental. Also, inform everyone from work about the change of your address. Especially your clients, if they need to send you confidential mail. Now, this is different depending on the company and from company to company.
What is the cost of living
Now when you move to a new city it's always important to calculate every little detail, since it'll all be reflected on your paycheck.  So we at moving and storage Tampa would like to provide you with a list of things to be considered:
Average mortgage or average rent
Grocery store availability and prices
Expenses for a single person, couple, or a family
Health care costs and insurance
Taxes
Transportation costs
Utilities (gas, water, electricity, trash, sewer, recycling, internet, and cable)
Miscellaneous expenses
Now as you see inflation is knocking on our door and so is a recession. So you should be prepared for the increase in these costs during fall and winter. The war is still quite active and in combination with post-pandemic inflation, it'll just keep increasing the prices of gas further. As you can see gas and all other forms of fossil fuels are skyrocketing.
Relocating before you start working and keep a record of all the expenses
Now the perfect timing would be as we've already discussed if you have a couple of days, a week. This will help you understand different ways of commuting to your job, different types of public transportation, etc. But if this is not the case, and you would like to buy a quick move-in house, build; ask your employer to help you. Yes, it's okay to ask for the company to pay hotel or rental expenses. This is important and there are many additional moving expenses that you should look to avoid. Also, you should as, an employee, have enough time to move, pack and organize your move. If they're in a hurry they should also pay for your meals, airplane tickets, and every other expense, since you're doing your company a favor.
Now, when we talk about coverage and getting your money back, save every receipt you get. Some companies will nowadays accept even photos taken with a phone or copies of receipts. But our advice is to always keep the original, take one big envelope and put them all there. If you want to be even more organized, take a few different envelopes, if possible in different colors, and divide them into categories like travel expenses, hotels, rents, packing, supplies, moving, etc. Most of these expenses should be covered by your employer. Talk with your employer about covering commuting or transporting expenses. If you're waiting for your car to be moved, they could rent one for you.
How does a job relocation work – the conclusion
First of all, we want to thank you for reading this article. We hope that we explained to you how a job relocation work. If you have even more moving-related questions, check our blog page. We can help you with everything from packing to moving across the state or within the state. If you have kids, that could be a bit more challenging than an average move. Since kids have to change schools and for this relocation, it's best to do it during the summer. During this part of the year, they'll have a long summer vacation and you could take a few days off just to settle down everything. So we hope that you'll have a stress-free relocation. Have a great move and have a nice day!
Few simple steps
Contact our business
Reach out to our Florida movers by phone, email or through our website.
Get your free quote
Give müv the details of your upcoming relocation and receive a no-obligation moving quote and a tailored plan of action.
Enjoy your relocation
Forget about the stress of moving while one of the top moving companies in Florida handles your move.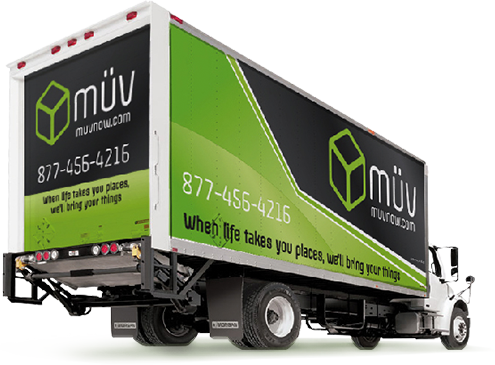 Sales Center Hours of Operation:
Monday - Friday: 9am-6pm
Saturday: 9am-1pm