Pinellas County relocation guide
Get Your Moving Quote
"*" indicates required fields
Moving to another city, town, or state is a huge change for every person. Whether you need to find a new job or just need a fresh start, relocation can be the right step for you. Once you find a perfect place for you and your family, some positive changes will start to happen. Whether you live in Florida or come from another state, the Sunshine State can be your ideal choice. Today, our moving experts from müv will give their best to help you discover many places in Pinellas County that you might call home soon. Regardless of your age, needs, and budget, our Pinellas County relocation guide will help you realize this area can be ideal for you. Stay with us and discover why Pinellas County keeps attracting people from around the globe. Also, we will be there to help you conduct your move!
Consider many different options with the help of our Pinellas County relocation guide
Whether you want to live in a large city or a small coastal suburb, you can find it in Pinellas County. This area consists of large cities such as St. Petersburg and small suburbs and places where you can escape from crowds. Also, here you will find many lovely cities with an optimal population. That means you can have all amenities near your home and still keep that suburban feel.
Nevertheless, St. Petersburg still remains one of the most popular cities in Pinellas County. Once people decide to move to this part of Florida, they usually hire our movers St Petersburg FL. This is the largest city in the area and has a population of about 260,000. It is a great destination for people who come from large cities, but that is not all. So, first, let's explore St. Petersburg opportunities together. Then we will help explore many other cities and places in this county.
Many reasons to opt for St. Petersburg after reading the Pinellas County relocation guide
Just as we said, St. Petersburg is the largest city in Pinellas County and offers plenty of opportunities. The first thing you want to know about this city is the cost of living. And luckily, we have excellent news- you can expect affordable costs of living in St. Petersburg. If you are looking for a city that has a cost of living right on par with the national average, you will not make a mistake by choosing to live in St. Petersburg. Besides, real estate in this city is also known for being affordable. So, if you are looking for purchasing real estate, you should consider St. Petersburg.
Even if you plan to rent an apartment, this magnificent city will give you many different opportunities. So, take the advice from our residential movers in Tampa and visit St. Petersburg when you start your search for a potential new home. This will also be a great opportunity to meet this city better.
St. Petersburg attracts people of all ages
If you did not know, this city is Florida's first "green city," and its residents care a lot about their environment. Many things in this city are about sustainability, and you will love that about your new community. If you are all about recycling, tree planting, and a clean and healthy environment, St. Petersburg is the city where you will love to live and work.  Another excellent fact about this city is the excellent transportation system. This is not true only when it comes to St. Petersburg, but the entire Pinellas County. Many transportation options are one more reason why you will wish to get help from moving and storage Tampa experts and move your home there.
Whether you own your vehicle or not, it is good to know you have different transportation options. It is very easy to get around by using Pinellas Suncoast Transit Authority. All you need to take a look at 40 bus and trolley routes that can take you anywhere downtown. If you like biking, we also have excellent news- you can enjoy over 30 miles of biking trails in St. Petersburg. For all sports lovers, there are a lot of sports teams in the city, and you could become a team member of some of those teams. Whether you are moving as a single or with a family, there is something for everyone in this amazing city. Once your visit St. Petersburg, you will realize how great your life can be here.
Benefits of moving to St. Petersburg
Regardless of your age and current budget, there are some excellent facts about St. Petersburg. In this city, your can count on many job opportunities and excellent income. Also, you can count on low taxes once you become a resident of this county. Also, this city is a cultural center of the entire Tampa Bay and is home to many world-class museums. This will be an excellent chance for you to have a lot of fun while our specialist from packing service Tampa packs your belonging for the upcoming move. Here you can meet many artists and art lovers and enjoy unforgettable weekends with friends and family. Also, this city is known for many community events and excellent nightlife. So, prepare for great places to eat, music venues, quiet piano bars, or thumping dance clubs.
Explore Tampa with the help of our Pinellas County relocation guide
As you go along Tampa Bay, you will get to Tampa- an amazing city. Compared to St. Pete, Tampa is a larger city which means you can count on more diversity and job opportunities, but also more traffic. This city is unique and has so many attractions you will love to explore. Here you will find many different shops, clubs, bars, amazing Cuban food, and many more. Moving with local movers in Tampa means you will surround yourself with high-rise condos, many entertainment options, and get close to waterfront views. Here you can also count on low costs, rich history, and plenty of diversity whenever you look at. Also, Tampa is known for sunny weather almost all year round. Here you can improve your lifestyle and your overall health.
Tampa is known for plenty of travel options available. Since this city attracts many tourists, also you can enjoy several buses, taxis, and car rental services. Also, you can rent a bike and get around easily and without stress. For young families, Tampa is heaven. The city is family-friendly and ideal for school-age children. Tampa has many top-rated schools, local colleges, and universities. So, regardless of your kid's age, Tampa can be an ideal choice when it comes to their education. Also, here you can find a spacious home for your family and get more space for new family members. Many young people who want to start a family will opt for Tampa after reading our Pinellas County moving guide. It is easy to stay active and enthusiastic when living in Tampa.
Opt for a Clearwater after reading our Pinellas County relocation guide
When you go northwest of Tampa and St. Petersburg, you will get to breathtaking Clearwater. This city has about 107, 000 residents, and it this the third largest city in this area. It is about a beach town with a unique vibe and an accent on music, arts, fashion, and culture. If you wish to move your home near one of the most beautiful beaches, (according to some lists- in the world), you should opt for Clearwater. Although the beach is world-famous, you can still find an affordable home in a small city right next to it. According to our movers Clearwater FL, this city abounds with a ton of properties to buy or rent. So, go and check the growing downtown area and also neighborhoods up and down the coast. This city consists of many neighborhoods ideal both for singles and families.
Clearwater is an ideal choice also for those who want to invest their money wisely. Here you can also get an investment or rental property. This is a vacation city where many visitors wish to stay or come back again. The city is so popular and one of the fastest-growing metro areas in the entire country. This is because of many businesses that come to nearby Tampa.
Who lives in Clearwater?
Clearwater attracts many seniors and retirees too. The city has so many attractions and things to do and see. It is also known for its growing cultural scene, many museums, and festivals. Once you decide to move to Clearwater, you will never get bored. Clearwater is heaven for active families and people who enjoy being close to stunning beaches all year round. For sure many of you reading our Pinellas County relocation guide just to find out something more about this lovely city on the West coast.
Find your peace in Dunedin
If you work remotely, Dunedin will be the best place you can find while reading the Pinellas County moving guide. This is a small coastal city with about 36, 000 residents and despite its size has so many amenities. If you like sailing and boating, this will be your dream home city. Located along the Gulf Coast, this city has many popular beaches. Costs of living in this city are affordable compared to the national average and here you can find an ideal home at fair rates. Dunedin is famous for low unemployment rates and is ideal for getting real estate. If you are looking for a small city with a rich culture and charming architecture, just go and visit Dunedin.
After you find a home and move with the help of our movers Dunedin FL, you can start at a slower pace. Living in this city means enjoying magnificent nature, tasty and healthy food, plants, and flowers. This can be one of your best decisions when it comes to moving to Pinellas County.
Opt for Largo or Palm Harbor after reading the Pinellas County relocation guide
If you are looking for a perfect place for retirement, Largo can be an excellent solution for you. This city has warm and perfect weather that will be appealing when you are thinking about long walks and improving your health. The city has all you need for a comfortable life and attracts seniors from all across the country.  Even over 30% of Largo's population are senior residents and here you will enjoy many activities for seniors. If you want to become a part of an outstanding senior community, come and visit sharing Largo. Our movers in Largo FL will provide you with top-quality services once you decide to move to this city. Come and find some new friends in a peaceful and tranquil city with beautiful nature on the West coast.
And last, but not least is a small city named Palm Harbor. The city has a comfortable, relaxing, small-town community atmosphere which is something many of you looking for. Although you can enjoy peace and quiet, you are in close proximity to Tampa and St. Petersburg when living in Palm Harbor. This is one of the main reasons why people hire movers Palm Harbor FL and move to this city after reading the Pinellas County relocation guide. The city has excellent schools, many parks, and plenty of attractions for young families and retirees. Palm Harbor presents the perfect balance of stunning nature, modern life, and a family atmosphere. This is a place where you can enjoy many outdoor activities all year round. Whether you have kids, want to retire, or looking for a fresh start, consider moving to Plam Harbor.
Few simple steps
Contact our business
Reach out to our Florida movers by phone, email or through our website.
Get your free quote
Give müv the details of your upcoming relocation and receive a no-obligation moving quote and a tailored plan of action.
Enjoy your relocation
Forget about the stress of moving while one of the top moving companies in Florida handles your move.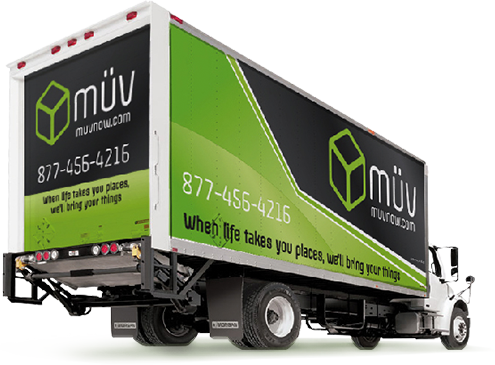 Sales Center Hours of Operation:
Monday - Friday: 9am-6pm
Saturday: 9am-1pm