How to clean out a storage unit
Get Your Moving Quote
"*" indicates required fields
Storage units can be a great solution for keeping your belongings safe and organized. However, over time, these units can become cluttered and disorganized. Our team at müv knows that it's easy to become overwhelmed if you don't know how to clean out a storage unit. It may seem like a neverending task at first. But, with our help, we know that you can manage. Here are all the steps you need to take to ensure your storage is cleaned out quickly.
Making a plan on how to clean out a storage unit
Everything always starts with a plan, even when you have to clean out a storage unit. So what does your plan for clearing out your storage Tampa FL, have to include? First, start with setting a date, and don't procrastinate. All the preparatory work should be done in that time, and that includes:
Making an inventory – in small spaces such as storage units it's easy to lose track of all your items, so make sure you have an overview of everything you want to clear out
Getting cleaning supplies – this one should go without saying, but it's important to have the right cleaning supplies not only for the storage unit but for your belongings as well
Getting packing supplies – if you want to move your items you should have packing supplies like boxes, tape, and blankets at the ready
Finding the suitable transportation – no matter where you plan on taking your belonging you will need to have either a car or a van to fit everything
Organize and declutter
We've made a plan on how to clean out your storage unit, time to execute it. Once you've arrived at your storage Melbourne FL, do a bit of organizing. Go through your inventory list and find all the items you need to take with you. Take the packing supplies and get ready to pack.
At this stage you will probably have an idea of what you need to throw out of your storage Orlando FL, so deal with that first. You should throw out everything you no longer need first because we recommend cleaning the items you want to take before you pack them. And if you don't get rid of everything you don't need first, it might feel overwhelming.  To make the most of your storage unit, use space efficiently. Stack boxes and items vertically, leaving enough room to move around.
Time to clean
Once you've packed everything, it's time to do a bit of cleaning. No matter if you are cleaning out or renting a storage unit in Florida, it's important to make sure everything is clean. Sweep or vacuum the floor, wipe down the walls, and use a disinfectant spray to kill any bacteria or mold. This is a must-do step especially if you are moving things to another storage unit.
And with cleaning, you are done. Hopefully, we resolved all your doubts you had on how to clean out a storage unit. Make sure to lift heavy things properly to avoid injury and to follow EPA's guidelines for disposal of hazardous waste if you have any. We wish you a happy cleaning!
Few simple steps
Contact our business
Reach out to our Florida movers by phone, email or through our website.
Get your free quote
Give müv the details of your upcoming relocation and receive a no-obligation moving quote and a tailored plan of action.
Enjoy your relocation
Forget about the stress of moving while one of the top moving companies in Florida handles your move.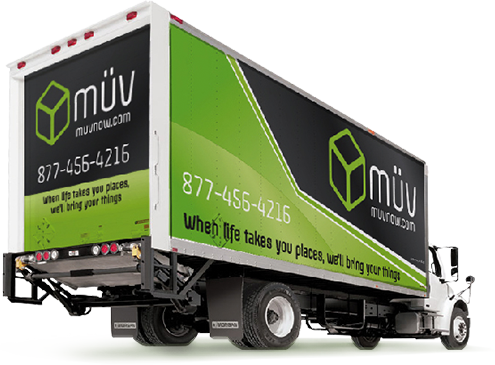 Sales Center Hours of Operation:
Monday - Friday: 9am-6pm
Saturday: 9am-1pm