Maximizing your investment: Tips for selling your Tampa home
Get Your Moving Quote
"*" indicates required fields
Tampa's real estate market is booming, presenting a golden opportunity for homeowners to maximize their return on investment. With potential buyers searching for their dream homes, understanding how to make your property stand out is crucial. müv moving experts are here to provide you with engaging and informative tips for selling your Tampa home and navigate the process with ease.
Know your worth on the Tampa real estate market
Tampa's housing market features rising property values and a competitive environment. To set a fair price for your home, study local trends and average prices. This way you'll ensure that you get get the best deal when selling your Tampa residence. Keep an eye on neighborhood developments and new construction projects. These factors can influence property values in your area. Furthermore, moving companies Palm Bay relies on can be of real help here. Keep track of the moving trends!
First impressions matter
The first impression your home makes on potential buyers is critical. Boost your property's curb appeal by landscaping, repainting, and updating exterior features. A well-maintained and attractive exterior entices buyers. It makes them eager to explore the interior. Therefore, don't forget to spruce up your entryway with a fresh coat of paint on your front door, clean windows, and a welcoming doormat. Your movers Cocoa Beach FL can help and provide tips to do this right.
Invest in your home's future
Fixing issues and upgrading your home can significantly increase its value. This will attract more buyers. Common improvements include fixing leaky faucets, updating light fixtures, and modernizing kitchen appliances. Prioritize repairs and upgrades based on your budget and the potential return on investment, ensuring you make the most of your resources. Consider seeking professional advice on which improvements are most likely to boost your home's value in the Tampa market. Get in touch with Space Coast movers!
Staging your home: showcase its potential
Home staging helps potential buyers envision themselves in your space. Declutter and neutralize personal items, ensuring your home is clean and inviting. Arrange furniture to create a welcoming atmosphere, accentuating your property's best features. Incorporate elements like fresh flowers, crisp linens, and soft lighting to create a cozy ambiance that appeals to a wide range of buyers.
Hire a real estate agent
Working with a professional real estate agent offers numerous advantages, from their knowledge of the local market to their negotiation skills. Research agents with experience and expertise in the Tampa market, and choose one who understands your needs and goals. They will guide you through the selling process, ensuring a smooth and successful transaction. Ask for referrals from friends and family, and read online reviews to find a reliable agent who will work tirelessly on your behalf.
Reach the right buyers – the most important of our tips for selling your Tampa home
An effective marketing strategy is vital to attract potential buyers to your property. Utilize professional photography, virtual tours, and social media promotion to showcase your home's appeal. By reaching a wider audience, you increase the chances of finding the perfect buyer for your Tampa residence. Your real estate agent can help develop a targeted marketing plan, utilizing their network and resources to maximize exposure.
Negotiating Offers: The Art of the Deal
When offers start coming in, work closely with your real estate agent to evaluate each one and determine the best course of action. Your agent will help you navigate the negotiation process, advising on tactics to secure the best possible price for your home. Be prepared to compromise and consider contingencies, such as closing dates and financing options, to reach a favorable agreement. Furthermore, keep in mind that the highest offer isn't always the best one. Factors like buyer qualifications and contingencies can impact the success of the sale. Here are our tips for getting the best deal:
Price your home competitively based on market research
Be prepared to negotiate, but know your limits
Offer incentives to attract buyers, such as covering closing costs or offering a home warranty
Time your sale strategically, considering seasonal trends and market fluctuations (e.g., selling during the spring or summer months when demand is typically higher)
Things you need to learn about Tampa real estate market trends
Having a grasp on Tampa's real estate statistics and prices equips you with valuable knowledge to negotiate the best deal for your home. Familiarize yourself with the local market by analyzing:
Average listing price in your neighborhood: $350,000
Average sold price for homes in Tampa: $325,000
Price per square foot for comparable properties: $200/sqft
Days on market for similar homes: 45 days
Percentage of list price to sale price ratio: 98%
Closing the deal tips for selling your Tampa home
Once you've accepted an offer, the closing process begins. Your Tampa real estate agent will continue to play a crucial role, liaising with the buyer's agent, attorneys, and other professionals involved in the transaction. Be prepared to submit necessary paperwork and complete any final repairs or upgrades agreed upon during negotiations. Stay in close communication with your agent to ensure you meet deadlines and address any issues that may arise. A smooth closing process will bring you one step closer to maximizing your investment.
Maximize your investment by following our tips for selling your Tampa home
By following these tips for selling your Tampa home and working with an experienced real estate agent, you'll be well-equipped to maximize your investment when selling your Tampa home. With a strategic approach to repairs, staging, marketing, and negotiation, you'll find the perfect buyer for your property. Knowing how to present and market your property effectively will help you achieve your goals and embrace new opportunities. Happy selling, and best of luck on your next adventure!
Few simple steps
Contact our business
Reach out to our Florida movers by phone, email or through our website.
Get your free quote
Give müv the details of your upcoming relocation and receive a no-obligation moving quote and a tailored plan of action.
Enjoy your relocation
Forget about the stress of moving while one of the top moving companies in Florida handles your move.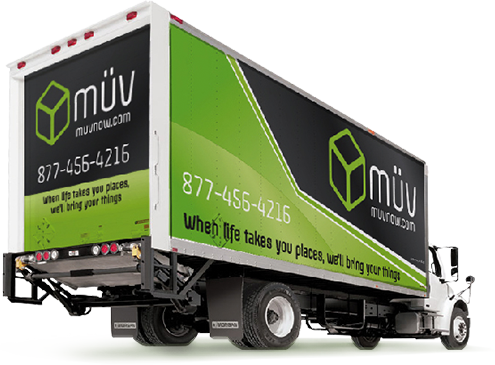 Sales Center Hours of Operation:
Monday - Friday: 9am-6pm
Saturday: 9am-1pm