Pros and Cons of Retiring in Tampa
Get Your Moving Quote
"*" indicates required fields
Are you thinking about spending your retirement in Tampa, FL? In this case, you should better learn what the pros and cons of retiring in Tampa are on time. In this way, you will know precisely what to expect and whether you are going to like it. Here are some of the most important pieces of information that will surely be helpful. Take them into consideration and you will make a final decision with no great effort.
The Neighborhoods Are Quiet
Even though Tampa is part of a bustling metropolitan region, it is possible to find quiet neighborhoods. In addition to this, some of these neighborhoods are highly affordable. For example, you can think about relocating to Bayshore Beautiful, Channelside, Dunedin, Harbor Island, Hyde Park, Seminole Heights, Ybor City, and West Tampa.
If you have been living in the vicinity, you surely already know what to expect. In a situation of this kind, feel free to take a pick and find a new home that is going to suit your needs. Do not worry, some of the most reliable movers from müv are going to give you a helping hand. They are highly professional and you can be sure that your belongings will be in great hands.
Enjoy Outdoor Activities Year-Round
Relocating to the Tampa Bay area means having a chance to be part of different outdoor activities. For example, it will be possible to attend different festivals. Some of them are Craft Beer Fest, Gasparilla Festival of the Arts & Film, Oktoberfest, Sunset Music Festival, Fiesta Day, Cuban Sandwich Festival, etc. In addition to this, you will be living in the vicinity of Clearwater, St. Petersburg, Lakeland, and Orlando. This means that you will get to visit the attractions that these cities are offering. Do not worry about your moving process. Feel free to think about what to do after the relocation and add some of the best moving services in Tampa to your contract.
The weather in Tampa is more than pleasant
People generally relocate to Florida because of the weather. According to the residents, this state has perfect weather. This means that you are going to enjoy your retirement for sure. In case you have been living in a place that has a colder climate, this is going to be more than a pleasant change. We know that moving from a colder climate to Florida is always something people are happy about, especially retirees.
There is no reason why this is not going to be the case with you. So, feel free to bring only lighter clothing items because you are not going to need a winter jacket. If some friends of yours are already living here, do not hesitate to ask them for a piece of advice. They are going to let you know all of the most important details.
Try Great Food and Drinks in Tampa
If you are a person who likes tasting new types of food, this is another reason why you should relocate here. You have surely been thinking about what the pros and cons of retiring in Tampa are regarding food. You should know that this is one of the pros. The city has a great mix of culinary options. For example, some of your options are going to be fresh sea, locally grown fresh foods, and vegetables, Cuban sandwiches, etc. Now that you know what you can expect, you surely cannot wait to relocate here. Let residential movers in Tampa take care of your moving process and you start planning how to spend your days here. Make a list of all of the restaurants you would like to visit and you will know where to start.
There Is an Exclusive Retirement Community You Should Consider
As you already know, there are many retirement communities in Tampa where you are going to be more than welcome. However, if you want to feel like a privileged retiree, think about relocating to Sun City Center. This suburb is quite exclusive and it operates as an independent town. It is unique – you will have a chance to get a golf cart and run errands with it. Whether you are going to a grocery store or you have a doctor's appointment, this is going to be your means of transportation. As you can see, they have thought about everything. So, visit this place and find a new home while your movers are taking care of your moving process. Some of the finest packing service Tampa offers are going to be at your disposal.
Visit Beautiful Beaches in Tampa
When you think of Florida, the first image that comes to mind is a sandy beach. Your life will surely revolve around beautiful beaches if you like spending time there. Considering the fact that you are going to live near amazing beaches, use the chance to enjoy as much time as possible there.
As a matter of fact, you should know that the beaches that you should visit first are St. Pete Beach, Treasure Island, Indians Rock Beach, and Fort Desoto. If you cannot wait to get here and listen to the waves, do not worry about unpacking your items. Feel free to use one of the safest storage in Tampa FL and store some of your items there. They will be waiting for you in perfect condition, that is for sure.
The Costs of Living Are Both Pros and Cons of Retiring in Tampa
You should know that you should not expect to find a home that is quite cheap. This goes both for renting and buying a home. On the other hand, it is a good thing to know that Tampa is not one of the most expensive places Florida has to offer. To be more precise, if you want to buy a home, you can expect prices to be about 5% higher than the national average. For renting a one-bedroom apartment, you are going to need around $1,100 a month. However, as a comparison, you would need much more money if you decided to relocate to Miami. So, check Tampa real estate market trends and you will know what to expect. In case you have a hard time finding a suitable home, you can always rely on a realtor.
One of the cons of moving to Tampa is that it will be tough to get around
Unfortunately, public transportation in Tampa is not something they can brag about. Yes, it is available, but it is also limited and inconvenient. However, if you decide to relocate here in spite of this, you will have to adjust. For example, you should know which areas of the city to avoid at certain times of the day. Another option you are going to have is to drive a car. In case this is not something that is a problem for you, it will be great. In this situation, you are not going to experience highly stressful situations. The city of Tampa is going to be your favorite place and you will enjoy it to the fullest. There will be nothing to worry about because you are going to have no obstacles.
There are bugs and alligators
Since you already know that the climate in Tampa is a warm, humid subtropical climate, you should also be aware of the fact that animals and insects enjoy this climate as well. When bugs are in question, you should know that mosquitos, palmetto bugs, roaches, and biting midges reside here.
So, if you relocate here, you should know that you are going to need a lot of repellents. However, there is a situation in which repellents are not going to help you. Do not be surprised if you see an alligator in your yard or somewhere nearby. Of course, the good thing is that they are not aggressive toward humans. If this was the case, Tampa would not be a desirable place for people to relocate.
Tampa has experienced several hurricanes as well as other natural disasters
One of the cons of moving to Tampa is that some natural disasters may occur. This does not mean that this is going to happen for sure, but you should know that several devastating natural disasters have occurred in recent years. To be more precise, these are wildfires, sinkholes, flooding, and hurricanes. However, one of the most frequent natural disasters is localized floods. This happens as a consequence of frequent rainstorms. So, in case you plan to buy a home in Tampa, make sure you get home insurance as well. This is something that pays off and, what is more important, makes it possible for you to preserve your peace of mind. Should you need a helping hand with your moving process, count on local movers in Tampa. This is a highly reliable moving company that is going to take care of everything.
The temperature can be more than high
Considering the fact that Tampa is situated in the sunshine state, you can expect at some points more sunshine than you may want. This means that the heat and humidity in the city can be quite extreme. It is especially the case during the summer.
During these periods, you may feel tired and drained. So, if this is something you cannot adjust to, think twice about relocating here. On the other hand, if this does not bother you and you can live with it, wait no longer and start preparing for the move. Your residential relocation is going to run smoothly with the help of true moving partners.
Visit Tampa Before Making a Final Decision
It is true that you can learn a lot about a certain city from this text. However, it is also important what kind of vibe you are going to get when you start living there. So, in order to check whether this city is going to suit you, feel free to pay it a visit before relocating. It is possible that some of the cons listed here are not as bad as they may seem at first sight. So, take some time to take everything into consideration and you will be sure that you have made the right decision when you see all the pros and cons of retiring in Tampa.
Now that you are familiar with the pros and cons of retiring in Tampa, it is time to think thoroughly about each of them. Try to imagine what your life would be like once you relocate there. If you have visited this city before, you already know what to expect. In this case, it is going to be much easier for you to visualize this. If you decide to relocate to Tampa, make sure you ask for the help of a professional. Your movers are going to make your moving process stress-free and you are going to enjoy your retirement. So, take some time to find the perfect home for you and all the rest will be of your mover's concern.
Few simple steps
Contact our business
Reach out to our Florida movers by phone, email or through our website.
Get your free quote
Give müv the details of your upcoming relocation and receive a no-obligation moving quote and a tailored plan of action.
Enjoy your relocation
Forget about the stress of moving while one of the top moving companies in Florida handles your move.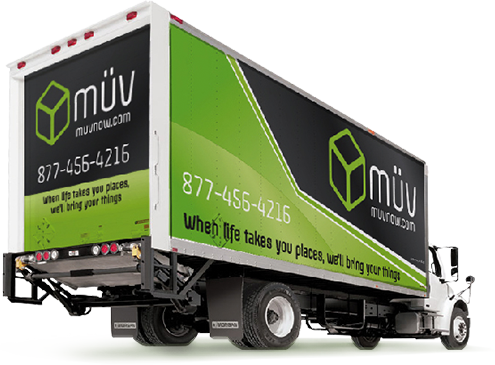 Sales Center Hours of Operation:
Monday - Friday: 9am-6pm
Saturday: 9am-1pm