Best places to retire in Florida
Get Your Moving Quote
"*" indicates required fields
Are you looking for a suitable place to retire? Once you are done with your job for good, it is time to relax and enjoy all the things you couldn't do so far because of various reasons. In order to truly enjoy your retirement, you need to choose a state. Florida should be on the top of your list. It is perfect for people who spent their working years in colder times. In addition to this, it has a reasonable cost of living, no income tax, and all the beautiful beaches. These would be some of the reasons why Florida is among the top desirable places to retire. However, Florida is pretty huge so you need to find a specific city where you can move with müv moving experts. Here are all the best places to retire in Florida. 
What to consider when choosing a city?
First, if you have a list of areas you would like to retire you should visit. There are many beautiful, inviting places in Florida, with a great offer of retirement communities. The Space Coast area is just one of the gems in Central Florida worth spending your retirement in. Searching online for retirement communities in the Space Coast area should be complicated but still, you should make a visit before hiring Space Coast movers. You will get a better impression if you visit in person.  Besides the above mentioned, there are plenty of other cities you should consider: 
Jacksonville

Orlando

 

Trampa

 

Ocala

Lakeland

 

Pensacola

 

Melbourne

 

Rockledge
Palm Bay
During the visit, you can also stop by several real estate agencies to check the housing market, as well. You can see if you want to rent or purchase a house. If you plan to purchase, you can also transform one part into a rental studio or apartment for tourists. It would be a good additional source of income. Hire your local movers Cocoa Beach FL and start your move!

A jewel of retirement living
With a population that surpasses 1.5 million, Jacksonville shines brightly as a retirement oasis. Offering a lifestyle that is well-suited for those over 60 – a demographic that forms 22% of its residents, this city caters splendidly to retirees. Affordable living is a key highlight here, with a median monthly mortgage cost hovering around $1400, and median rent settling around $1100, making the financial side of retirement less daunting.
But the true essence of Jacksonville lies beyond its affordability. Imagine spending your golden years basking on pristine white sand beaches, gazing at the vast Atlantic Coast. Or perhaps, indulge in tranquil fishing sessions at the Saint Johns River and Jacksonville Beach Pier. A seamless blend of peaceful living and engaging activities makes Jacksonville more than just a city – it's a lifestyle that many retirees yearn for. Are you moving from Largo? Get in touch with movers in Largo FL and ask for assistance.
Your dream retirement destination
Orlando – a city known worldwide as a premier vacation spot, also presents itself as a remarkable choice for retirement. It houses approximately 250,000 residents, of whom nearly 20% are aged 60 or above, creating a vibrant community of like-minded individuals. Financial feasibility adds to its appeal, with the median monthly mortgage cost approximating $1500 and median rent around $1200, providing retirees a balance of comfort and affordability. Movers Orlando relies on await your call!
But the charm of Orlando isn't limited to its economics. It's a city bursting with recreational possibilities, boasting proximity to the world-renowned Walt Disney World and Universal Studios Florida. The opportunity to embrace a retiree's life amid such exhilarating environs truly sets Orlando apart. Not just a city, but a retiree's playground, Orlando beckons you to experience a retirement like no other. Get in touch with you local movers Palm Harbor FL has to offer for a smooth and seamless transition.
Uncover the serenity of Rockledge
For retirees aiming to delve into a tranquil yet engaging lifestyle, Rockledge, Florida serves as the perfect setting. This city is not just a haven for those seeking peace and quiet but also a vibrant community that brings together like-minded individuals, particularly retirees. Rockledge presents an affordable living cost compared to the national average. Retirees can anticipate reasonable prices for housing, with a healthy balance between cost and comfort. One of Rockledge's most significant selling points is its location along the Indian River. It offers retirees ample opportunities for engaging in outdoor activities.
Fishing and boating are popular pursuits, while the scenic riverwalk offers a tranquil setting for leisurely walks or picnics. The Riverfront Park, with its well-maintained trails and captivating wildlife, serves as a perfect spot for nature lovers. Notably, Rockledge is home to the historic Valiant Air Command Warbird Museum, an exciting visit for history and aviation enthusiasts. Here, retirees can explore an extensive collection of vintage aircraft and immerse themselves in the rich history associated with them.
Moreover, proximity to the Brevard Zoo and the Kennedy Space Center gives retirees access to some of Florida's most popular attractions. For the golf enthusiasts, the city offers the Rockledge Country Club, an 18-hole course where you can enjoy the sport amid lush green landscapes. Rockledge, therefore, presents a perfect blend of serenity, outdoor activities, and cultural attractions. It's not just a city; it's a comfortable and exciting retirement lifestyle waiting to be discovered. Movers Rockledge FL relies on await your call!
The small city with a big heart for retirees
For those seeking a quieter, more intimate environment for their retirement, Ocala, Florida is an ideal choice. This smaller city, with a population of around 60,000, boasts a significantly high retiree percentage of over 35%. This sense of community and camaraderie amongst those in their golden years is a unique selling point of Ocala. Financially, it offers an attractive prospect for retirees with a median monthly mortgage cost of around $1000 and a median monthly rent slightly under $900.
But the magnetism of Ocala extends beyond affordability and community. As a city famed for its award-winning horses, it provides an array of equestrian activities that cater to equine enthusiasts and curious beginners alike. Attend exhilarating horse shows, enjoy memorable horseback rides, or even immerse yourself in equestrian events. With Ocala, your retirement won't just be a phase of life, it'll be an adventure in a city that reverberates with the sound of hoofbeats.
Experience vibrancy in Tampa, one of the best places to retire in Florida
Tampa, a city alive with approximately 400,000 residents, offers retirees a perfect blend of tranquility and vivacity. 26% of its population consists of people over 60, fostering a strong community of individuals who value both relaxation and entertainment. With median monthly mortgage costs around $1500 and rent usually around $1100, Tampa offers affordability without compromising the quality of life.
Tampa's lively spirit provides an exciting backdrop for retirement. It hosts an array of entertainment options, including an impressive aquarium and a captivating zoo, promising diverse experiences every day. For sports enthusiasts, the city supports several teams, making it a hub for local and national matches. Theme parks and a popular port for cruise ships further embellish Tampa's vibrant scene. Retirement in Tampa isn't about slowing down. it's about living it up amid Florida's sunshine, taking each day as a new opportunity for exploration and enjoyment. You can also hire movers Tampa relies on and enjoy your golden years in peace.
Bask in serenity and natural beauty in Lakeland
Retirement is an opportunity to embrace tranquility and appreciate the beauty that nature has to offer. And what better place to do this than in Lakeland, Florida. A city that houses just over 100,000 residents, 26% of whom are over 60, Lakeland offers a peaceful and vibrant community for retirees. The economic aspect of living here is just as appealing, with the median monthly mortgage cost around $1300 and a median rent of approximately $970. Your local movers St Petersburg FL offers can help you move there with ease.
Lakeland, as its name suggests, is surrounded by approximately 38 picturesque lakes. These tranquil bodies of water provide a soothing backdrop to your golden years, setting the stage for serene morning walks, relaxing afternoons of fishing, or tranquil evenings watching the sun dip below the horizon. This peaceful city is perfect for retirees who yearn to escape the hustle and bustle of crowded urban environments. In Lakeland, life slows down to a calming, leisurely pace, allowing you to truly enjoy your retirement years amid the city's quiet splendor.
Affordable beachside retirement with a touch of elegance in Pensacola
Another gem nestled within Florida's vast landscape is Pensacola, a city tailor-made for retirees seeking an affordable yet elegant beachside retirement. Housing around 52,000 residents, of whom 23% are over 60, Pensacola offers a charming community where retirees can enjoy a relaxed lifestyle. The financial aspects are appealing as well, with the median monthly mortgage and rent costs being around $1300 and $1000, respectively. Reach out to the movers Pinellas Park FL trusts for a smooth transition.
Positioned along the Pensacola Bay and near the Gulf of Mexico, this city serves as an idyllic retreat for those yearning for beachside serenity. Picture your retirement days spent exploring the sandy shores, basking in the sun, or simply savoring the breathtaking view of the bay. Pensacola isn't just a city; it's a beachside paradise offering a rejuvenating atmosphere that perfectly suits the pace of retirement life. Here, every day is a vacation, making it the perfect spot to transform your golden years into an extended beach holiday.
A dreamy coastal retreat in Palm Bay
Retirees looking to spend their golden years immersed in Florida's coastal charm will find an ideal haven in Palm Bay. Known for its scenic beauty and welcoming community, Palm Bay offers a unique blend of relaxed beach town vibes and city amenities, making it an attractive retirement destination. While specific demographic and financial details as of my latest update in September 2021 are not available, Palm Bay, like its neighboring cities, offers an affordable cost of living relative to the national average.
Boasting miles of picturesque coastline and nestled along the Indian River, Palm Bay is a paradise for outdoor enthusiasts. You can enjoy serene beach walks, invigorating fishing trips, or simply soak in the beauty of the stunning seaside vistas. With numerous parks and nature reserves, such as the Turkey Creek Sanctuary, Palm Bay invites retirees to embrace a lifestyle of leisure and tranquility in their golden years.
Other best places to retire in Florida
Port St. Lucie has almost 200,000 residents and 33% are over 60 years old. The median monthly mortgage is around $1500 while the median monthly rent is around $1100. It is located along the Atlantic Ocean in the southern part of Florida. It has beautiful beaches and also Savannas Preserve State Park and the Port St. Lucie Botanical Gardens. In addition to this, you can also consider Fort Myers. This city has around 83,000 residents and more than 35% are over 60 years old. The median monthly mortgage cost is around $1500 while the median monthly rent is around $1000. Lastly, you can also move to Melbourne. This city has around 82,000 residents and almost 31% are over 60 years old. The median monthly mortgage is around $1300 while the median monthly rent is around $1060. As a local here you can watch rockets being launched into space. 
Which city to choose?
As you can see, these would be the best places to retire in Florida. You have plenty of options to choose from. How to make a decision would depend on your personal preferences. Some retirees would prioritize the price while others pay attention to the overall atmosphere of their future city. As mentioned, it would be better if you can actually go and visit a couple of cities before making your decision. This way, you can see if a certain city would be suitable for your needs and habits. Do not forget to check possible housing options as well. You can start planning your budget on time if you check with real estate agencies about the housing market. As you can see, some cities are more expensive than others. 
Few simple steps
Contact our business
Reach out to our Florida movers by phone, email or through our website.
Get your free quote
Give müv the details of your upcoming relocation and receive a no-obligation moving quote and a tailored plan of action.
Enjoy your relocation
Forget about the stress of moving while one of the top moving companies in Florida handles your move.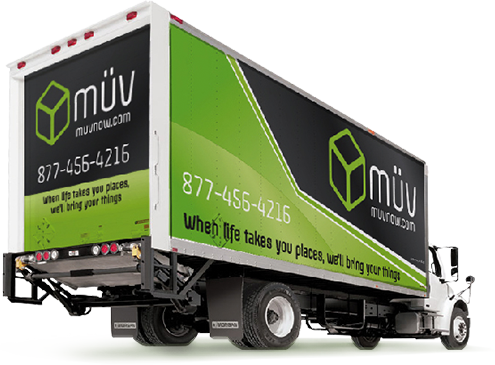 Sales Center Hours of Operation:
Monday - Friday: 9am-6pm
Saturday: 9am-1pm