Moving to Melbourne FL with a dog: Guide for pet-owners
Get Your Moving Quote
"*" indicates required fields
Everyone who owns a dog will understand – they are a part of your family. So, if you are thinking of moving someplace, the first thing on any dog owner's mind is how pet friendly that city is. Even though most beaches have areas for dogs, Melbourne takes a dog-friendly city a bit further. So, if you are considering moving to Melbourne FL with a dog, our team at Müv will help you figure out what you can expect.
The first thing to do after moving to Melbourne FL with a dog
Let's start with probably the most crucial thing you should do after you've moved with the help of movers Melbourne FL, – finding the right vet for your pup. This should be one of your top priorities when moving to Melbourne FL with a dog. Luckily, this task won't be hard. There are several pet and veterinary centers nearby that offer top care for your furry friends. There are several great options in Melbourne, including Eau Gallie Veterinary Hospital and True Vets Florida. We do recommend getting a check-up after moving. This is simply because you should want to check your pet's health, but more importantly, it's important to get to know the vet as soon as possible. That way both you and your pet will get used to them right from the get-go.
Finding fun things to do with your pet after moving
After you've settled in it's time for some fun bonding time. It is normal for your pet to take some time adjusting to your move to Melbourne. That is why having a fun time can be considered mandatory. First make sure you take out all your pet's toys and other belongings from storage Melbourne FL, or anywhere else you keep them. Having a familiar scent will help them adjust sooner to new surroundings.
Before taking your dog for a walk make sure they feel settled in or relaxed. You can tell that by their posture and behavior. Tense posture and agitated behavior can signal that your dog feels overwhelmed and it's probably best to wait until you take them outside to meet other dogs. However, once you notice signs of your dog being relaxed or excited, it is time to explore dog parks in Brevard County, Florida. There is one in Melbourne, but we do recommend visiting others in the county.
Some extra things you should know if you are moving with your pet
Before you move to Melbourne with your pets, there are a couple of tips that will make the relocation easier for you and your dog. Make sure you pack all your dog's items, like blankets, food bowls, food, and toys in a separate essentials bag. Furthermore, take care not to lose anything when moving to Melbourne FL with a dog. Secondly, while Space Coast movers have adjusted to Florida heat, it's not something that's easy for all dogs. Make sure they have enough water during relocation and you should be fine. Everything else should be easy to handle. And remember if you need a helping hand in your relocation, don't hesitate to contact us.
Few simple steps
Contact our business
Reach out to our Florida movers by phone, email or through our website.
Get your free quote
Give müv the details of your upcoming relocation and receive a no-obligation moving quote and a tailored plan of action.
Enjoy your relocation
Forget about the stress of moving while one of the top moving companies in Florida handles your move.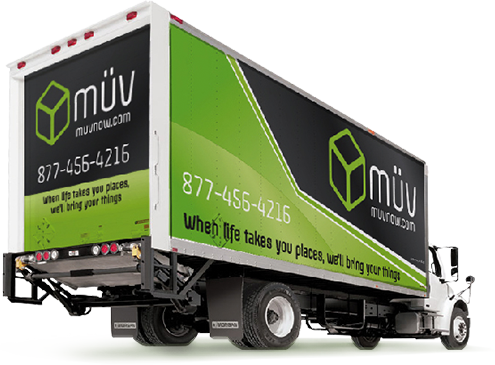 Sales Center Hours of Operation:
Monday - Friday: 9am-6pm
Saturday: 9am-1pm